!-GénérEpar Avanquest Technology v:8.0. Pour plus d'information, visitez : http://www.avanquest.com -->


Orthotic Repair Services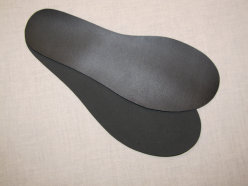 Topcover Replacement
Topcover Options
Neoprene is a premium covering material with moderate cushioning and great compression resistance. The overall thickness is 3/16" and is best suited for full length orthotics used in athletic or casual shoes with removable insoles. (Black cloth)
Synthetic leather is a thinner topcover option having low-med cushioning, yet great durability. The overall thickness is approximately 1/8" and is preferred for dress shoes, perspiration issues, and 3/4 length orthotics. (Black)
Before
After
Topcovers may be replaced with one of two length options: 3/4 Length & Full Length. 3/4 length covers the shell only, or extends slightly past the shell (sulcus length). Full length topcovers extend ALL the way to the toe end of the shoe.
3/4 Length
Full Length
Neoprene
Synthetic Leather
Extras
Metatarsal Supports
Pads that support the transmetatarsal arch, aleviating pressure from the ball of the foot. These pads are located at the distal end of the orthotic shell, they are effective, yet may take a little time to get used to.
Heel Spur Pads
These are horseshoe shaped cushions that alleviate pressure from the central part of the heel.
Extra features can be added to an orthotic while the topcovers are being replaced. Metatarsal supports, heel spur pads, and arch pads are the most common add-ons. If your orthotic originally featured any of these "Extras", please request them on the order (or they won't be included).
Metatarsal Supports
Heel Spur Pads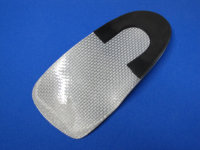 Ultra Sponge
Pamper your feet by upgrading to the softest, most comfortable topcover option we offer! It starts with a 1/16" top-layer of neoprene, followed by a 1/8" mid-layer of ultra sponge, then finished with a durable bottom cover on the full length option. This tri-laminate combination has excellent cushion, durability, and compression resistance.
*Your orthotic base or (shell) must be constructed from a rigid material such as plastic, fiberglass, or a composite in order for the topcovers to be replaced.
*Each topcover material may be ordered in either full length or 3/4 length.
*Choose topcover replacement materials based on YOUR needs, you don't have to duplicate the original length, materials, or extras.
Neoprene
Synthetic Leather
Ultra Sponge








Synthetic Ultra Leather
Arch Pads
Standard neoprene topcovers are refurbished with a basic EVA foam mid-cushion under the topcover material for comfort and rigidity. Standard synthetic leather topcovers feature a thin layer of sponge rubber under the topcover material to provide a modest amount of cushion.
Synthetic Ultra Leather
Arch Pads
For those who want durability, but don't want to sacrifice comfort! We use the ultra sponge mid-cushion, then add a synthetic leather top instead of neoprene.
A soft contoured arch pad increases the support under the arch, approximately 3/16" higher than the original shell support.
*Extras can be ordered even if your orthotics did not include them originally.
*Genuine leather can be substituted for synthetic leather by request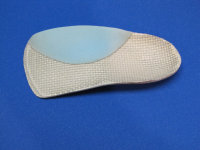 Current in-lab turnaround time: 5-7 business days
*Order replacement topcovers from the "Place Order" page
*Mail us your worn orthotics
*We return them feeling like new again!
The "ultra" topcovers feature a premium urethane mid-cushion under the topcover material to provide maximum comfort as well as a protective bottom cover beneath the forefoot to create the highest quality topcovers. (bottom cover included on full length "ultra" topcovers only)

*Turnaround timeframe subject to change before your orthotics are delivered to the lab*