!-GénérEpar Avanquest Technology v:8.0. Pour plus d'information, visitez : http://www.avanquest.com -->


Orthotic Repair Services
Base Repairs
The base or (shell) of an orthotic can crack over time; as long as the crack hasn't completely separated the orthotic into two or more pieces, it likely can be patched. Repairs are achieved by molding a thin composite material under the cracked area, after it's cured, it provides strength and rigidity.
Heel Stabilizers
Heel stabilizers are molded under the heel of an orthotic to reduce the "roll" of the foot. All orthotic shells have a rounded heel, molded to the natural shape of the foot. When a foot pronates or supinates the heel will roll in or out, heel stabilizers help prevent these undesirable motions and add stability to the orthotics.
If a crack develops in the shell of an orthotic, the amount of support diminishes. If it is left alone it will continue to grow until the orthotic is rendered useless. A patch or filler can be added to reinforce the shell and add years to the orthotic's life, saving hundreds of dollars for a replacement.
Cracked shell patch
Heel Stabilizers
Heel stabilizers are an important part of a functional orthotic. We can add them to a pair of orthotics, or we can replace existing stabilizers, restoring the support and stability. By reducing the roll of the foot, you are reducing the twist produced in the legs, hence reducing stress on the knees, hips, and back.
Without Heel Stabilizers
With Heel Stabilizers









Cracked Shell
Cracked Shell Patch
Shell Duplication
If you are thinking about sending a worn pair of orthotics to us for refurbishment, you may want to consider having an additional set made! When the topcovers are removed from an existing pair of orthotics, we can make duplication models and fabricate additional pairs of custom support shells.
Original Shell
Duplicate Shell
Duplication Model
Topcover options are included in the pricing for duplicate orthotics, however, you will need to place an additional repair order to replace the topcovers for your original orthotics.
Original (Ultra Sponge)
Duplicate
(Synthetic Ultra Leather)
By placing separate topcover orders, you have the option to choose a different topcover for your original orthotics from your duplicate orthotics (if you wish). The original (above) was recovered with ultra sponge, the duplicate was finished with synthetic ultra leather.
Rigid orthotic shells can be duplicated! Numerous materials are used to produce an orthotic shell. We will select a material that best matches the rigidity and feel of your original shell, but it may be a slightly different material or color.

Duplication price includes:
*Topcovers (if desired)
*Any other "extras" found
on original pair

The topcovers need to be removed from the original orthotics and will need to be replaced. It is best to place a duplication order when you are planning on having the originals recovered. If you place a duplication order (with) topcovers, the pricing is for the duplicate topcovers, NOT the originals. You will need to order topcovers and "extras" (if needed) for your original orthotics as well, or they will not be recovered.

Due to some of the handmade aspects of fabrication, there may be small variances in the duplicates, (otherwise extremely accurate).
Shell Duplication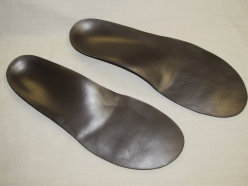 Current in-lab turnaround time: 5-7 business days
In addition to refubishing worn topcovers, we also offer a variety of Base Repair services. Patching cracked shells, adding or replacing heel stabilizers, and orthotic duplication are the most popular Base Repairs typically ordered.

*Turnaround timeframe subject to change before your orthotics are delivered to the lab*